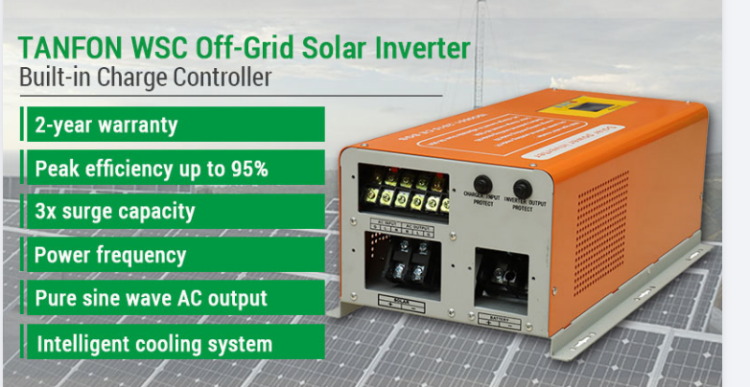 1.The chassis is thick, resistant to falling, shockproof and not easily deformed.
2.MOS tubes, ICs, and triodes are all new imported raw materials.
3.Toroidal transformer, small no-load current, low loss, high efficiency
4.The process is good, the wiring is complete, the circuit board wire head is not easy to loose, and the failure rate is reduced.
5.Power board brushed three anti-paint, moisture-proof, dust-proof, anti-static, improve work efficiency
6.Design life is 10 years
WSC Series 3KW Solar Inverter With Mppt Charge Controller Data Sheet
Model

WSC1K
WSC2K
WSC3K

Rated power(W)

1KW
2KW
3KW

Rated DC voltage(V)

24V
48V

Line input

Input voltage(V)

145-280V, 90-127V

Charge current(A)

10-30A

Inverter output

Output voltage(V)

110V or 220VAC±5% &5V,12V DC

Output frequency

50Hz/60Hz±1%

Wave

Pure Sine Wave, THD<4%(Full Load)

Solar input

Maximum voltage(V)

42V or 88V or 176V

Rated power(Wp)

1000W
2000W
3000W
Solar Controller

Charge current(A)
60A
MPPT range(V)
24v(20-34)48v(40-68)
Charging efficiency

90%-95%, Peak on 97%
What's the difference between off grid and on grid solar inverter?
Off grid solar inverter doesn't connect to the power grid. In general, it includes solar panels, charger controller, batteries and inverter. This system will store the solar power into the batteries, batteries energy will be converted the electricity power to supply the appliances working through the inverter.
On grid solar inverter connects to the power grid. In general, it includes solar panels, grid-connected inverter, the solar power will be converted the electricity power to appliance working directly. When the solar power is off, the power grid will replenish the electricity power to appliances working.
Solar System Installation Case
Product Details
WSC3K off grid 3000w Hybrid solar system inverter with built-in MPPT controller, wall mount design, easy installation.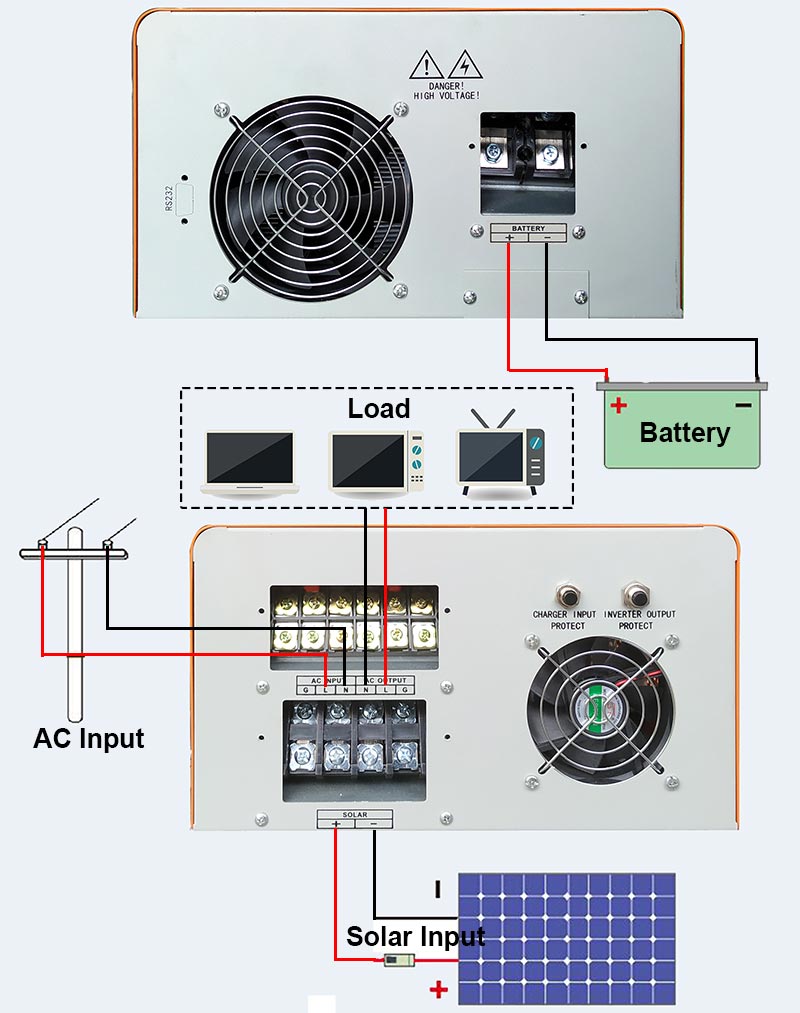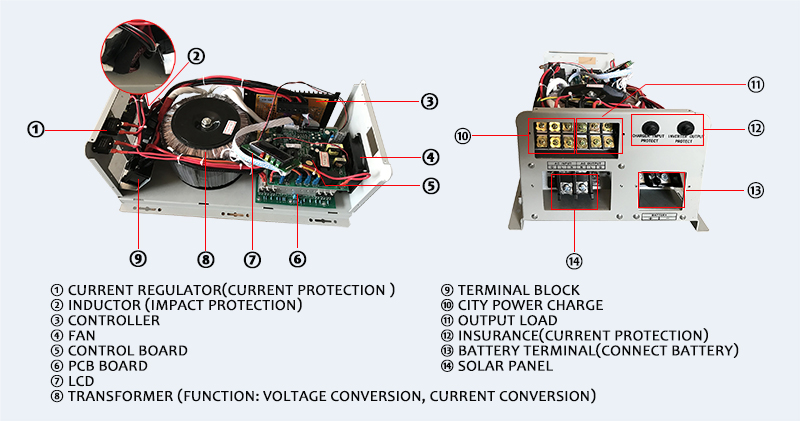 Foshan Tanfon Energy Technology Co., Ltd is a professional manufacturer of green energy products with great commitment, contribution heart, and responsibility.
We are specialized in the R&D, manufacture, and sale of high-quality inverters, all kinds of pure sine wave Hybrid solar inverter(off-grid and on-grid, single-phase and three-phase).
Why Choose TANFON solar inverter Products?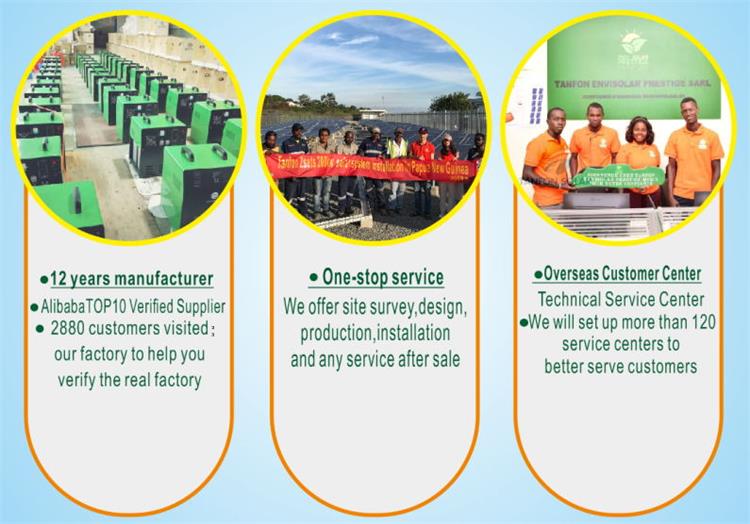 1.Sample service:Applicable to quality test,function test etc
2.Repair service:Two year warranty
3.perfect after sales service system:Contact us ,we will help you quickly find the problem,then give you fast service .
4.ODM service:Powerful R&D department can provide professional technical support
5.OEM services:More than 100 pieces ,you can decide the trademark and package
6:quality utmost:Each inverter has tested by power-off test of 100 times per hour.
Solar inverter solar Seven Management Systems:
Name
Picture
Advantage
Supply System

Since the establishment of our inverter factory, we have been purchasing transformers and capacitors from the same supplier.

MOS tube adopts an imported IR brand.

QC System

ICT test, pinhole alignment PCB board, check all lines, reduce the failure rate.

Production System

Wall-mounted inverter board production uses automated machine plug-ins. Improve efficiency, reduce loss, and enhance stability

Factory Inspection System

Our inverter has passed 100 times of ultimate power-off test. According to statistics, 99% of the tested inverter can work very stable.
solar inverter packing&load container: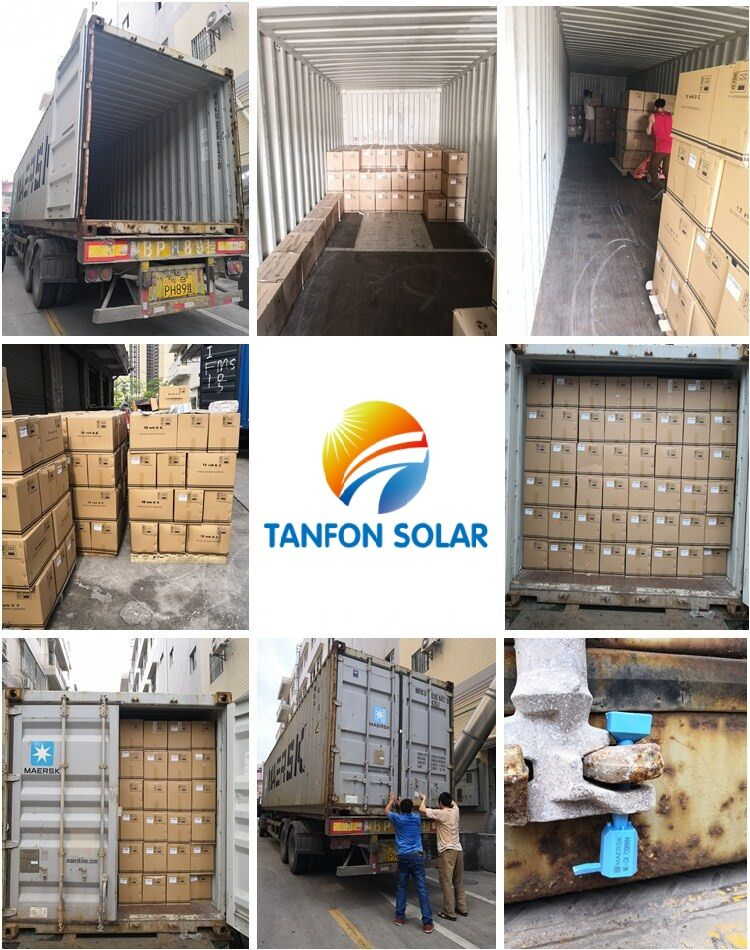 Certificate
We have ISO9001, CE, RoHS ;have pass COC,IEC62109,The test report will be applied to Algeria, Botswana, Côte d'Ivoire, Ethiopia, Gabon, Ghana, Kenya (PVoC), Kuwait (KUCAS), Lebanon, Libya, Mauritius, Nigeria (SONCAP), Philippines, Qatar, Russia, Saudi Arabia, Tanzania / Sangria Zimbabwe, Zimbabwe and Morocco countries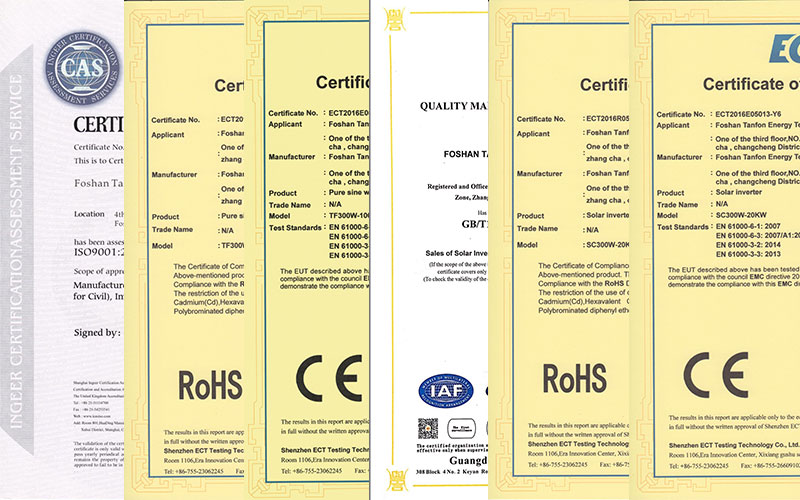 We accept OEM order, contacting with us now for more information. All inquiries will be replied with in 24 hours.
Next: