Tanfon MPPT solar charge controller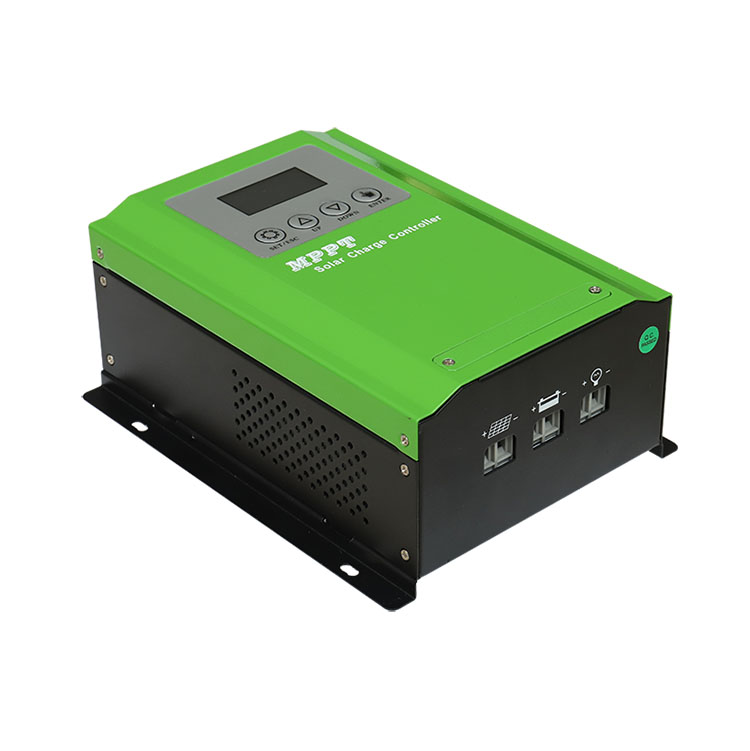 Feature:
(1) 12V / 24V / 36V /48V / 72V / 96V adjustable;and 220V or 360V(optional)
(2) Advanced maximum power point tracking technology to optimize using the solar system.
(3) Peak conversion efficiency of 97 %, high Tracking efficiency of 99%.
(4) Very fast sweeping of the entire I-V curve, several seconds tracking speed.
(5) Widely used, automatic recognize day/night.
(6) Timer function with 1-15 hours option for street light.
(7) Unique dual timer function, enhance the flexibility of street light system.
(8) Sealed, Gel and Flooded battery option.
(9) Adopting temperature compensation and correcting the charging and discharging parameters automatically, improving the battery lifetime.
(10) Electronic protection: over charging, over discharging, overload, short circuit.
(11) Reverse protection: any combination of solar module and battery, without causing damage to any component.
(12) Excellent thermal design and nature air cooling.
Specification:
| | | |
| --- | --- | --- |
| | | |
| 12V/24V | 12v/24v/48v | 48v/96v |
Model

20A

30A

40A

50A

60A

charge mode

Three phases: (MPPT) with constant current, constant voltage, floating

overall efficiency

12V/24V/36V/48V optional

Input characteristics

MPPT working voltage range

12V 24V system DC34V-DC150V

36V 48V system DC65V-DC150

48V 60V system DC65V-DC170V

72V96V system DC85V-DC180V

PV maximum open-circuit voltage input

82V/82V/164V

The largest solar panels power input

12V system(W)

240W

360W

480W

600W

720W

24V system(W)

480W

720W

960W

1200W

1440W

48V system(W)

960W

1200W

1700W

2200W

2800W

charge characteristic

Battery types

12V/24V/48V system

Sealed lead acid battery, discharge type pool, gel battery, nickel cadmium batteries ternary lithium battery lithium iron phosphate batteries (can also be customized for other kinds of battery)

Rate current

12V/24V/48V system

20A

30A

40A

50A

60A

Product size length * width * height

276*241*100mm

N.W(kg)

3

3

3

3

3.5
50A and 60A developing stage
Model

50A-80A

100A-120A

50A-80A

100A-120A

System voltage

12V/24V/48V

48V/96V

Charging type

MPPT automatic maximum power point tracking.

Charging mode

Three - stage: constant current (MPPT), constant pressure, floating charge.

system mode

DC12V/24V/36V/48V automatic

48V/96Vautomatic

Efficiency

97%

97%

97%

97%

Battery voltage range

9V-16V(12VDC)

18V-30V(24VDC)

27V-48V(36VDC)

36V-60V(48VDC)

72V-120V(96VDC)

PV INPUT

MPPT operating voltage and range
14VDC-80VDC(12V SYSTEM)
38VDC-100VDC(24V SYSTEM)
72VDC-150VDC (48V SYSTEM)
144VDC-180VDC (96V SYSTEM)
Low voltage protection
16V(12V SYSTEM)
30V(24V SYSTEM)
60V(48V SYSTEM)
60V(48V SYSTEM)
120V(96V SYSTEM)
Low pressure recovery
22V(12V SYSTEM)
34V(24V SYSTEM)
65V(48V SYSTEM)
130V(96V SYSTME)
Overvoltage protection
105V(12V SYSTEM)
105V(24V SYSTEM)
160V(48V SYSTEM)
285V(96V SYSTEM)
Overvoltage recovery
80V(12V SYSTEM)
145V (24V SYSTEM)
200V (48V SYSTEM)
280V (96V SYSTEM)

Charging characteristics

Selectable battery type
Lead-acid battery, lithium battery
Undervoltage shutdown
10.2V(12VDC)
10.2V(12VDC)
40.8V(48VDC)
81.6V(96VDC)
Undervoltage recovery
11.5V(12VDC)
23V(24VDC)
46V(48VDC)
92V(96VDC)
Float voltage
13.5V(12VDC)
27V(24VDC)
54V(48VDC)
108V(96VDC)
Battery overcharge protection
14.6V(12VDC)
29.2V(24VDC)
58.4V(48VDC)
116.8V(96VDC)

Charging current

50A-80A

100A-120A

50A-80A

100A-120A

Over temperature alarm

75℃

Over temperature recovery

65℃

size (MM)

390*260*140

Packing size(MM)

470*355*205

Weight(KG)

10

11

10

11