140KW Solar System Price 380V 415V Off Grid 140KVA Solar Power Panel
Tanfon Supply: Free site survey, design, production, installation, maintenance with our sophiscaticated one-stop service.
For the products, Each set solar power system has power on&off test 100 times per hour.Each step of production is under strict quality control. Our products are qualified with CE, ROHS, ISO, SGS certification
For our project case: Our products have been sold to more than 120 countries, (solar home project,solar school project ,solar hospital project,solar farm project ,solar hotel project,solar air port project ,solar millitary project ,Solar energy water treatment equipment project,solar goverment project etc)
we have a professional installation team, which has been to 32 countries and regions ( Egypt, Bangladesh, Chad, Nigeria,Thailand,Ghana, Doha, East Timor state, Pakistan, kenya ,indonesia ,Dubai,Mozambique etc.) for installation service. We also win many good feedbacks from the customers.
For our Global service in Thailand,Kenya,Senegal,Mozambique,will build 120 service centers all over the world. Give strong after-sales service in Local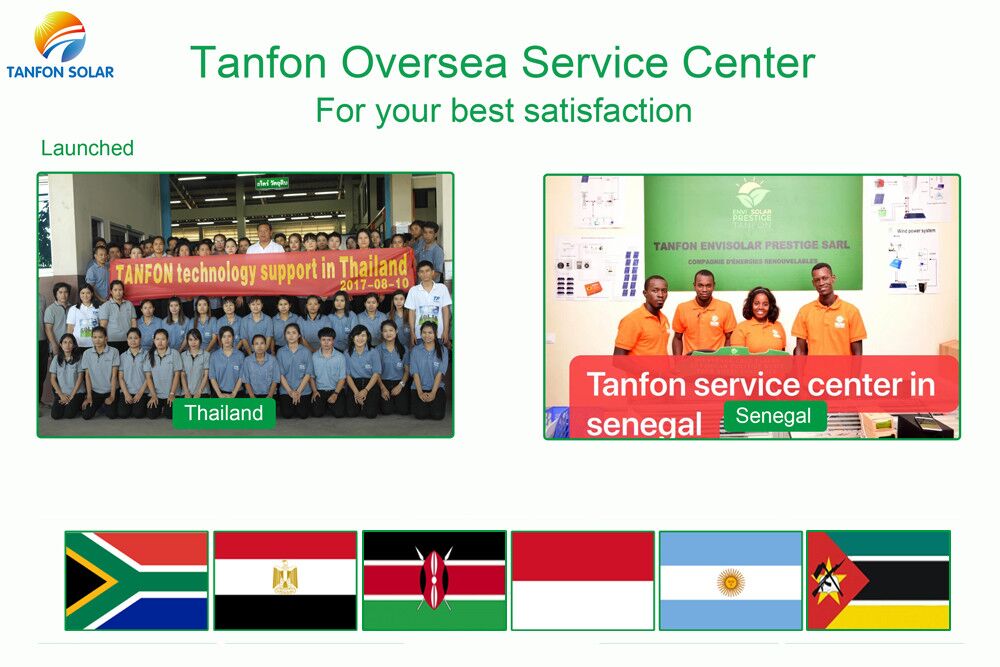 Complete Off Grid 130KW Solar System 380V 415V
FS380w solar panel
450pcs
H10T PV combiner
3pc
360V/150A solar controller
3pc
TF140KW three phase inverter
1pc
2V/1200AH gel battery
220pcs
solar panel rack
1set
Battery cable+PV cable
1set
Packaging Information
Total volume:58CBM Total weight;17960KG
Installation area
solar panel:780m² inverter+battery:20-60m²
Complete Off Grid 140KW Solar System 380V 415V

High-end solar storage system

FS380W mono solar panel(poly optional)

Vmp:38.39V Voc:47.13V Imp 9.75A

Size : 1956*992*40mm

25 years life time (CE TUV)

Coated steel Glass:3.2mm Tem pered

Terminal block:IP65 with MC4 connector

Efficiency performance :25 years 80 % 20 year 85% 10 years 90%

Connect:each 13pcs in series, 4strings in series

PV combiner

Model:H10T-360v Multiple PV strings inputs

Simplify wiring between PV array

and controller, protections to controller ,

Wide range of DC input voltage

Reliable thunderstorm& surge protection

MPPT controller model: 360V/150A

Charging efficiency; 90%-95%,

charging mode, intelligent control.,

various protection functions;

Can read daily,monthly and total power generation

Solar three phase Inverter power:SC140kw/360v

WiFi signal receiving module

Low voltage:324V High voltage:442V,

Charging efficiency; 90%-95%,with AC charger built-in, Protection against short-circuit,

Output: 380V 415V 50/60HZ

Solar battery

1)Gel battery,2 years warranty.

ship NEW for service.

2)Lithium battery,3 years warranty.

ship NEW for service.

Slope Rooftop or Flat rooftop

including complete fittings

wind load:55m/s,snow load:1.5kn/m2

structure:Anodized Aluminum+stainless steel, Angle adjustable

1)84pcs 25mm2*35CM battery cable

6pcs 25mm2*2M battery cable

25mm *30M

2)4mm2 PV cable 400M,16mm2 cable 50M

3)terminals and MC4* 10pairs, air breakers
Get Price Of 140KW Solar System Now
How to control solar power system(solar panel) quality?
System
System Essentials
Pictures

Supply

System

1. Solar cell: Dark color, black, no color difference

2. Solar Cell shape: corner piece

3. Solar cell efficiency: 21%

Production

System

1. Classification of solar cell with different colors, powers and efficiencies using automatic sorting equipment

2. EL test of the solar cell by EL device to ensure that the solar cell is not cracked

3. Components are fully automated production line operations

QC System

1. EL tester tests the solar cell to ensure no cracks

2. The component tester performs EL and data testing before component packaging to ensure data is acceptable and components are not cracked.

3. Component products are monitored with data from a tester to ensure data is correct

Packaging

System

1. Can be packed in carton box or wooden cases

2. The solar panel is in an upright packaging mode to reduce the transport breakage rate

Factory Inspection System
QC inspection qualified products, distinguish the identification zone placement, ensure the shipment quantity, model, customer name is correct.
After Sales Service System
Free replacement of new solar panel during the 10-year warranty period if have any quality problem.
Solar panel production video: Classification of solar cell with different colors, powers and efficiencies using automatic sorting equipment
How to control solar power system(Solar Inverter) quality?
System
System Essentials
Pictures

Supply

System

1. Since the establishment of our inverter factory, we have been purchasing transformers and capacitors from the same supplier.

2. MOS tube adopts imported IR brand

3. SCR adopts imported from Germany

4. IGBT adopts Japanese Mitsubishi brand

Production

System

Wall-mounted inverter board production uses automated machine plug-ins. Improve efficiency, reduce loss, and enhance stability
QC System
ICT test, pinhole alignment PCB board, check all lines, reduce the failure rate.

Packaging

System

Power lower than 1KW inverter carton packaging, containing pearl cotton; power higher than 2KW inverter plywood wooden box packaging, containing pearl cotton. One piece one packaging.
Factory Inspection System
Our inverter has passed 100 times of ultimate power-off test. According to statistics, 99% of the tested inverter can work very stable.
After Sales Service System
All inverters are free to send new spare boards within the warranty. For more services, please click the link to view.
Previous:
Complete 130KW Solar Power System Price 380V 415V Off Grid Solar Panel
Next:
160KW Solar System Price 380V 415V Off Grid 160KVA Solar Power Panel