TANFON Solar Manufacturer since 2007, Professional technical team, German technical solar products, Home solar system, Industrial & Commercial Solar System, 50000+ successful cases, Have a lot of experience in solar energy solutions, Serving 160 countries, 100% satisfaction.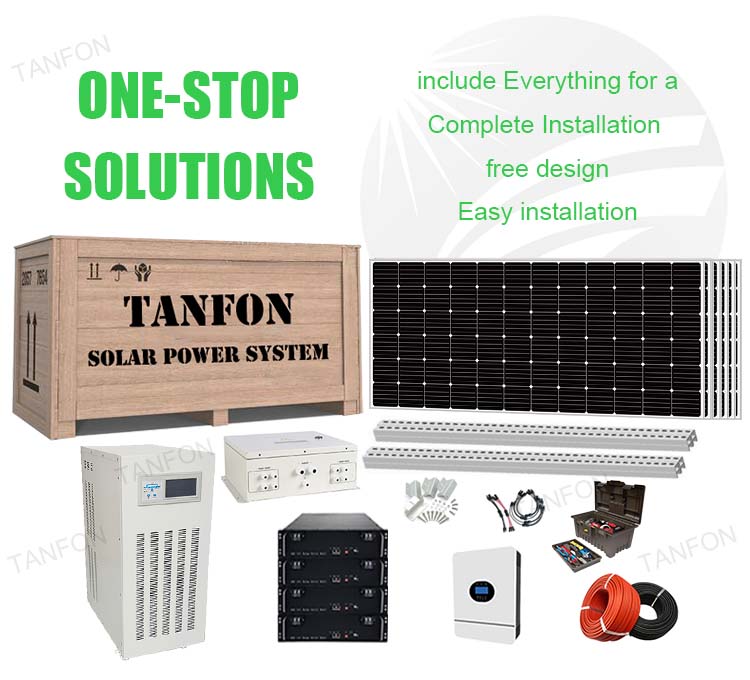 Product details

Maximum 600W solar panel optional

Shingled solar panel, USA Technology, higher efficiency, longer life

Vmp:38.39V Voc:47.13V Imp 9.75A

Size : 1956*992*40mm

25 years life time (CE TUV)

Coated steel Glass:3.2mm Tem pered

Terminal block:IP65 with MC4 connector

Efficiency performance :25 years 80 % 20 year 85% 10 years 90%

Connect:each 13pcs in series, 4strings in series

PV combiner

Model:H10T-360v Multiple PV strings inputs

Simplify wiring between PV array

and controller, protections to controller ,

Wide range of DC input voltage

Reliable thunderstorm& surge protection

MPPT controller model: 360V/150A

Charging efficiency; 90%-95%,

charging mode, intelligent control.,

various protection functions;

Can read daily,monthly and total power generation

Solar three phase Inverter power:SC200kw

WiFi signal receiving module

Low voltage:324V High voltage:442V,

Charging efficiency; 90%-95%,with AC charger built-in, Protection against short-circuit,

AC Output: 110V 120V 220V 230V 240V 380V 415V 440V 50/60HZ

Phase number: Single phase, split phase, three phase options

Solar battery

1.Free maintenance, service life 6-8 years
2.DOD 70% cycles 1500 times
3.The latest through-wall welding technology,more suitable for motor loads.

Slope Rooftop or Flat rooftop

including complete fittings

wind load:55m/s,snow load:1.5kn/m2

structure:Anodized Aluminum+stainless steel, Angle adjustable

cable

Installation Tools

Most Complete Configuration

Configuration is most complete on the market, which includes all necessary components. After the installation is complete, it can be directly used by household appliances.

Super load capacity, with complete short circuit protection, overvoltage protection, overload protection, backfill protection, insulation resistance protect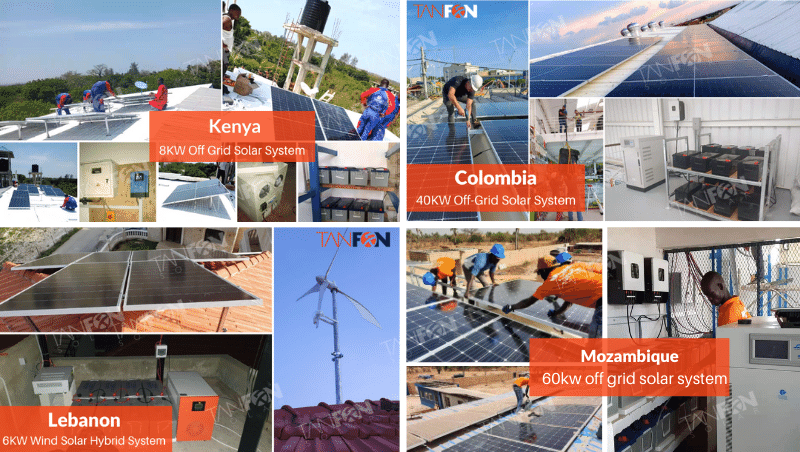 For the products, Each set solar power system has power on&off test 100 times per hour.Each step of production is under strict quality control. Our products are qualified with CE, ROHS, ISO, SGS certification
For our project case: Our products have been sold to more than 160 countries, (solar home project,solar school project ,solar hospital project,solar farm project ,solar hotel project,solar air port project ,solar millitary project ,Solar energy water treatment equipment project,solar goverment project etc)
we have a professional installation team, which has been to 32 countries and regions ( Egypt, Bangladesh, Chad, Nigeria,Thailand,Ghana, Doha, East Timor state, Pakistan, kenya ,indonesia ,Dubai,Mozambique etc.) for installation service. We also win many good feedbacks from the customers.
For our Global service in Thailand, Kenya, Senegal, Mozambique, will build 120 service centers all over the world. Provide Strong After-Sales Service To Countries in Africa, Latin America and Asia.
TANFON Solar factory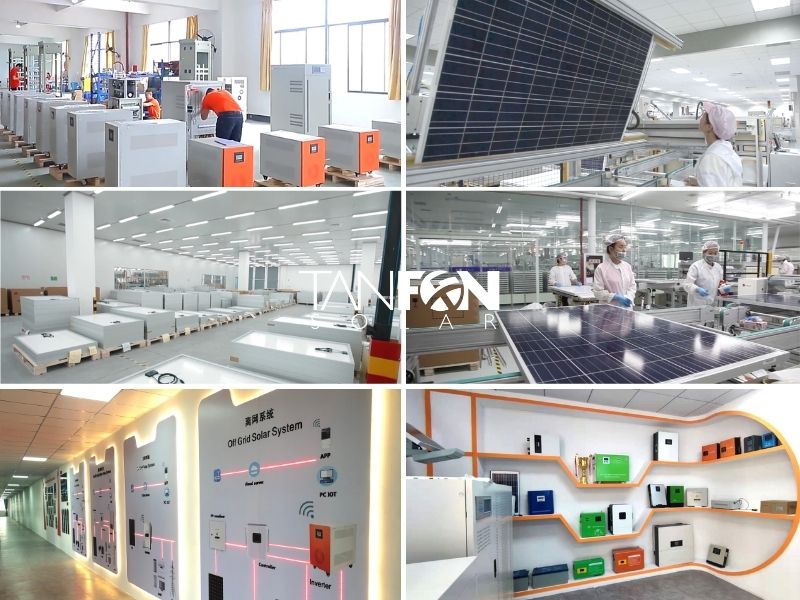 How to control solar power system(solar panel) quality?
System
System Essentials
Pictures

Supply

System

1. Solar cell: Dark color, black, no color difference

2. Solar Cell shape: corner piece

3. Solar cell efficiency: 21%

Production

System

1. Classification of solar cell with different colors, powers and efficiencies using automatic sorting equipment

2. EL test of the solar cell by EL device to ensure that the solar cell is not cracked

3. Components are fully automated production line operations

QC System

1. EL tester tests the solar cell to ensure no cracks

2. The component tester performs EL and data testing before component packaging to ensure data is acceptable and components are not cracked.

3. Component products are monitored with data from a tester to ensure data is correct

Packaging

System

1. Can be packed in carton box or wooden cases

2. The solar panel is in an upright packaging mode to reduce the transport breakage rate

Factory Inspection System
QC inspection qualified products, distinguish the identification zone placement, ensure the shipment quantity, model, customer name is correct.
After Sales Service System
Free replacement of new solar panel during the 10-year warranty period if have any quality problem.
Solar panel production video: Classification of solar cell with different colors, powers and efficiencies using automatic sorting equipment
How to control solar power system(Solar Inverter) quality?
System
System Essentials
Pictures

Supply

System

1. Since the establishment of our inverter factory, we have been purchasing transformers and capacitors from the same supplier.

2. MOS tube adopts imported IR brand

3. SCR adopts imported from Germany

4. IGBT adopts Japanese Mitsubishi brand

Production

System

Wall-mounted inverter board production uses automated machine plug-ins. Improve efficiency, reduce loss, and enhance stability
QC System
ICT test, pinhole alignment PCB board, check all lines, reduce the failure rate.

Packaging

System

Power lower than 1KW inverter carton packaging, containing pearl cotton; power higher than 2KW inverter plywood wooden box packaging, containing pearl cotton. One piece one packaging.
Factory Inspection System
Our inverter has passed 100 times of ultimate power-off test. According to statistics, 99% of the tested inverter can work very stable.
After Sales Service System
All inverters are free to send new spare boards within the warranty. For more services, please click the link to view.
Solar inverter board production: use automated machine plug-ins. Improve efficiency, reduce loss, and enhance stability.
How to control solar power system (Gel Battery) quality?
System
System Essentials
Pictures

Supply

System

1. Battery case, ABS material conforming to UL94HB and UL94V-0 standards, no color difference, no crack.

2. The unique lead-calcium grid improves the hydrogen evolution potential, reduces gas evolution, reduces corrosion rate, and extends battery life.

3. The use of copper terminals, excellent conductivity and high wear resistance, enhances high current discharge performance;

4. High quality AGM partition for partition

Production

System

1. Battery plate production workshop, independent production of positive and negative plates, effectively ensuring the quality of the plates

2. Semi-automatic cladding machine): Semi-automatic double-layer cladding technology, double-layer separator can better prevent short circuit of the pole plate. The semi-automatic double-layer board process ensures that the packaged groups are neat, beautiful and clean.

3. Automatic slotting machine: higher efficiency, saving the process involved in manual slotting, avoiding the human contact group, maximizing the protection of the pole group, making the battery have very good self-discharge performance, battery consistency, total Voltage consistency.

QC System

1. DC spectrometer: high precision detection of lead purity to ensure purity above 99.994%

2. High current detector: ensure that each battery is under high current, whether charge and discharge normal

3. Large battery tester: Under high current, whether the bus bar of the battery has a problem of melting and short circuit

4. Internal resistance meter: Make sure that the internal resistance and voltage of each battery are normal, and the consistency of the battery.

Packaging

System

Carton packaging, use the inspection-free pallet to hold the shipment
Factory Inspection System

QC inspection qualified products, distinguish the identification zone placement, ensure the shipment quantity, model, customer name is correct

After Sales Service System

Free replacement of new batteries during the 2-year warranty period if have any quality problem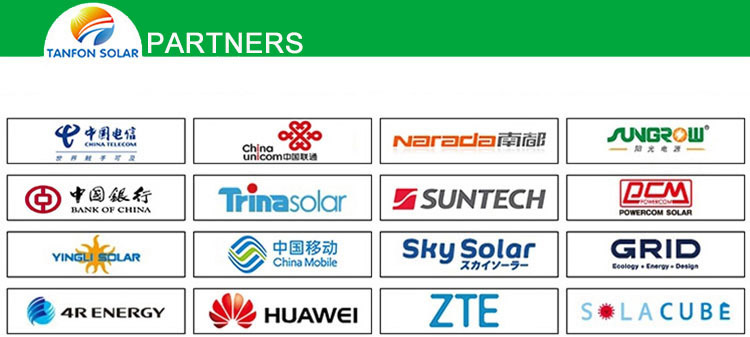 Factory inspection: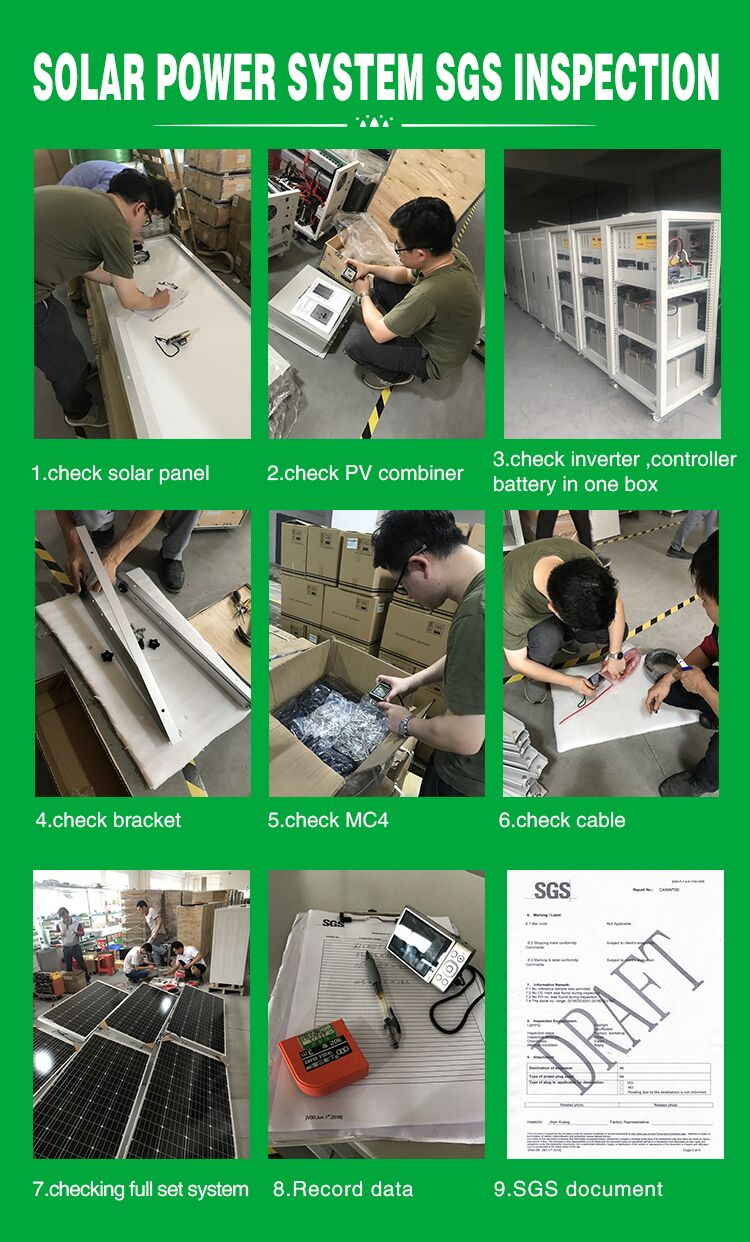 Tanfon solar certification: