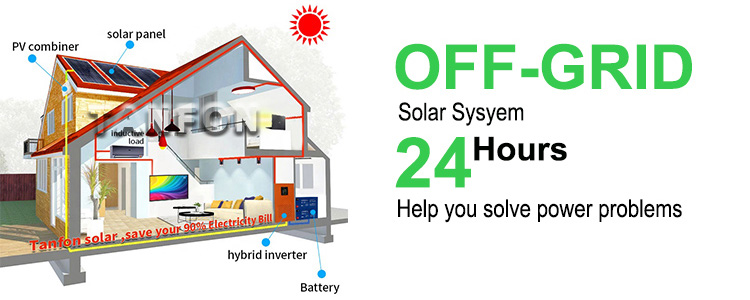 The off-grid solar system is used in areas completely disconnected from the grid. It uses solar energy during the day and the electricity stored in the battery at night to achieve 24-hour use of electricity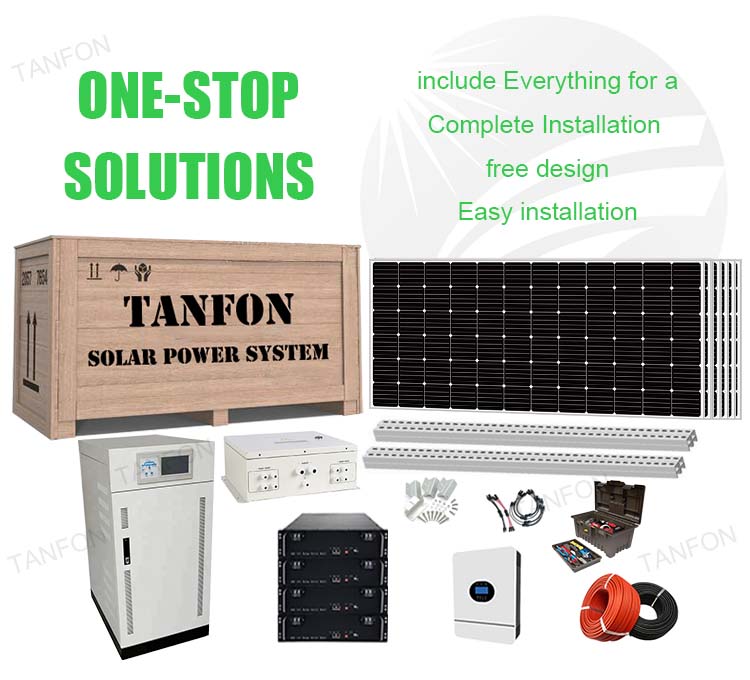 What's Included:
30KW Solar Power System

375W Solar Panel
78 (Pcs)
Hybrid Inverter
30KW Solar inverter
H6T PV Combiner
1 (Set)
360V/100A Solar controller
1 (Set)
Gel Battery
12V 200AH
Quantity of Battery
60 (Pcs)
DC Cable
100 (m)
Mounting System
Customized
Battery Rack
Customized
Battery cable+PV cable
1 (Set)
Monitoring System
1 (Set)
PV Tools
Full set
Total Information
volume:16.6CBM Weight:5746KG
Installation area
solar panel:156m²-inverter+battery:6-10m²

Note: The electricity produced every day in the picture is the maximum value reached after 6 hours of sunlight.
Product details

FS380W mono solar panel(poly optional)

Vmp:38.39V Voc:47.13V Imp 9.75A

Size : 1956*992*40mm

25 years life time (CE TUV)

Coated steel Glass:3.2mm Tem pered

Terminal block:IP65 with MC4 connector

Efficiency performance :25 years 80 % 20 year 85% 10 years 90%

Connect:each 13pcs in series, 4strings in series

PV combiner

Model:H6T-360v Multiple PV strings inputs

Simplify wiring between PV array

and controller, protections to controller ,

Wide range of DC input voltage

Reliable thunderstorm& surge protection

MPPT controller model: 360V/100A

Charging efficiency; 90%-95%,

charging mode, intelligent control.,

various protection functions;

Can read daily,monthly and total power generation

Pure sine wave inverter 30KW/360VDC input

WiFi signal receiving module

Use copper transformer;

Bypass function with AC charger;

Product size:785*580*1197mm Weight:400KG

Output: 220V 380V 415V 50/60HZ

Solar battery

1)Gel battery,2 years warranty.

ship NEW for service.

2)Lithium battery,3 years warranty.

ship NEW for service.

Monitoring system
Data Logging Stick allows you to receive information from solar power system, in order to keep you informed about the situation of
your PV system, and the atmosphere conditions, everywhere and every time, thanks to our web server, accessible via Wi-Fi,Lan or GPRS. for PC, IOS & Andriod

Slope Rooftop or Flat rooftop

including complete fittings

wind load:55m/s,snow load:1.5kn/m2

structure:Anodized Aluminum+stainless steel, Angle adjustable

1)58pcs 16mm2*35CM battery cable

4pcs 16mm2*2M battery cable

25mm 20M power cable

2)4mm2 PV cable 100M*2pcs

3)terminals and MC4+2P100A Power switch box

Installation Tools

hammer*pliers*screwdriver

Disassembly tool gloves

Screwdriver 5mm

Disassembly tool

Most Complete Configuration

Configuration is most complete on the market, which includes all necessary components. After the installation is complete, it can be directly used by household appliances.

Super load capacity, with complete short circuit protection, overvoltage protection, overload protection, backfill protection, insulation resistance protect

Contact our sales representative and provide a monthly electricity bill or total load. Our technicians can calculate the solar power system that suits you.
Transport Packaging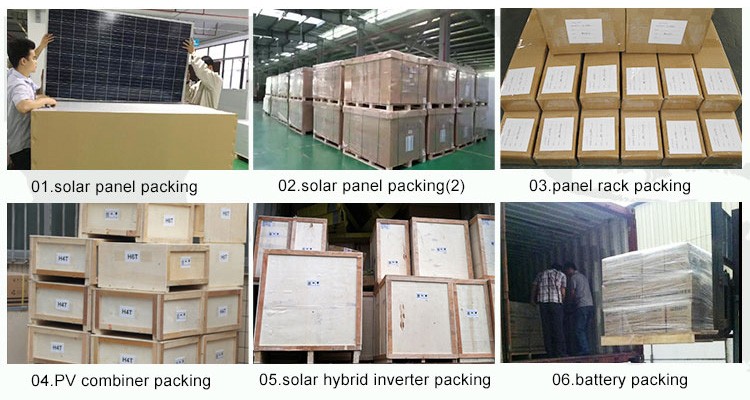 Can be packed in carton box or wooden cases, The solar panel is in an upright packaging mode to reduce the transport breakage rate, Free replacement of new solar panel during the 10-year warranty period if have any quality problem.
How to install 30kw solar system?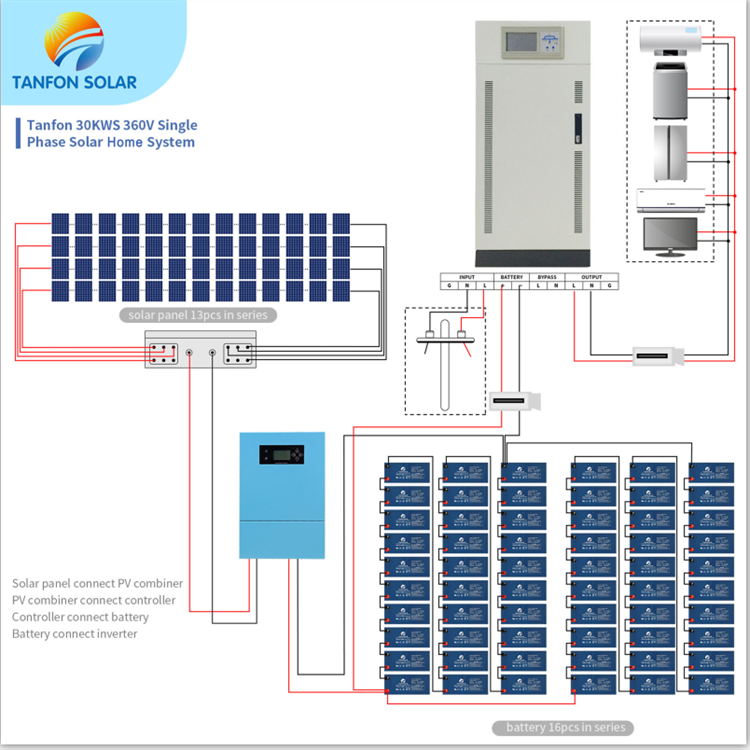 When you become a user of tanfon products, you can get our technical support, Tanfon Team also have Video install support+install drawing +Step by step installation instructions.
Overseas Projects: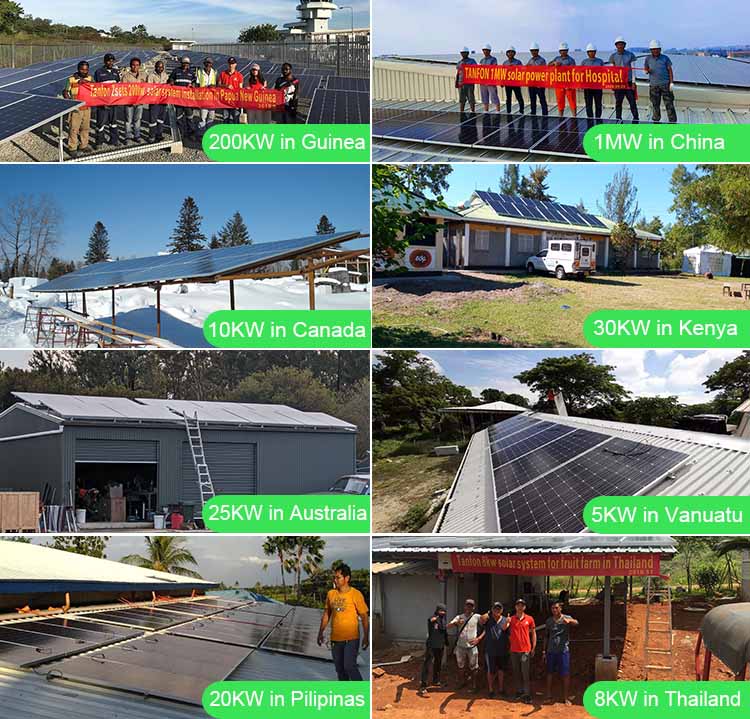 Our products have been sold to more than 120 countries, (solar home project,solar school project ,solar hospital project,solar farm project ,solar hotel project,solar air port project ,solar millitary project ,Solar energy water treatment equipment project,solar goverment project etc)
we have a professional installation team, which has been to 32 countries and regions ( Egypt, Bangladesh, Chad, Nigeria,Thailand,Ghana, Doha, East Timor state, Pakistan, kenya ,indonesia ,Dubai,Mozambique etc.) for installation service. We also win many good feedbacks from the customers.
Customer service: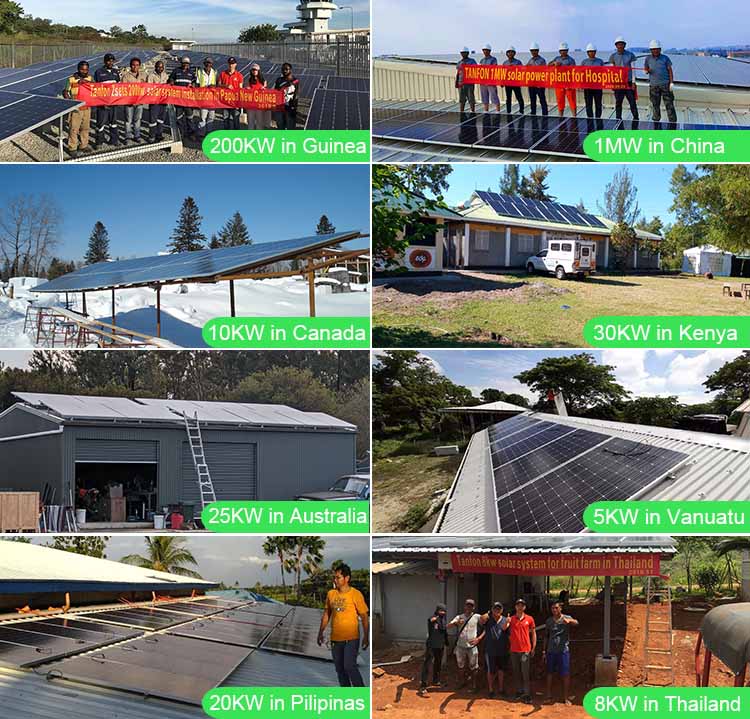 After 12 years of deep cultivation, we have successfully helped 28 customers to grow up and cooperate together to develop the local market more comprehensively.
Specializing in installing projects from design, detailing, fabrication to erection, having continue cooperation with engineers, exclusive agents and the foreign business partners, we are now sincerely hoping to join hands with you to create a better future together at the principle of win-win cooperation (send inquiry to know more)
Overseas exhibitions: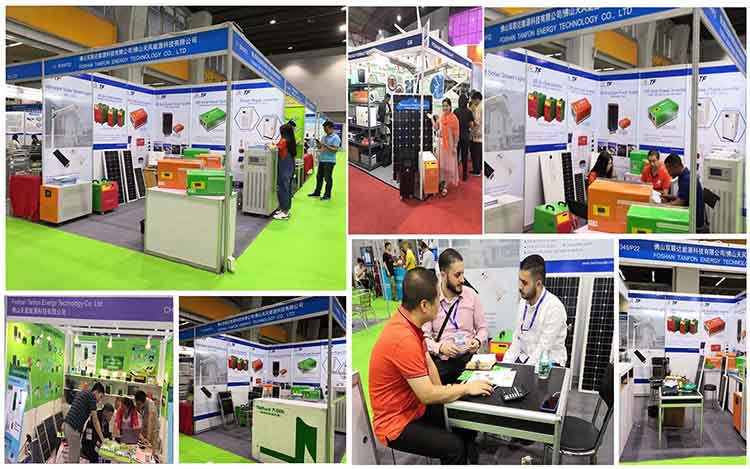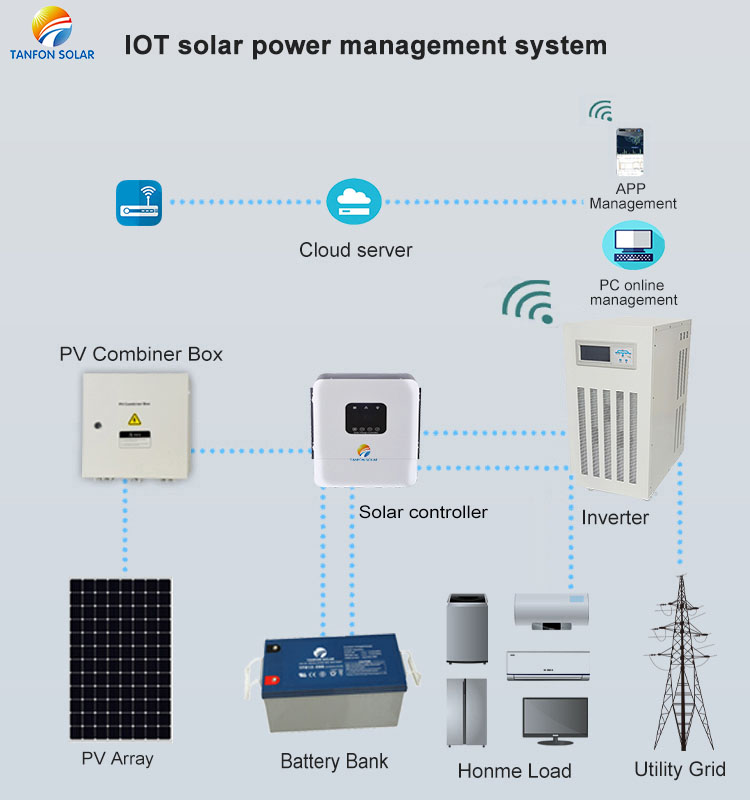 Tanfon Solar APP Super Advantage:
1)One Phone remote control ALL solar system
2)Troubleshoot and reduce maintenance costs
3)Develop your brand APP to competitiveness
How to order products from Tanfon?
After the customer signs a contract with Foshan Tanfon Energy Technology Co., Ltd. and receives a 30% advance payment, our factory will start to produce the product specifications required by the customer. After receiving the final payment, it will be shipped to the customer's destination port for pickup or door-to-door (customers can choose a designated freight forwarder)