Get Solar Product Manufacturer Price For Lebanon Now
500w-200kw solar power system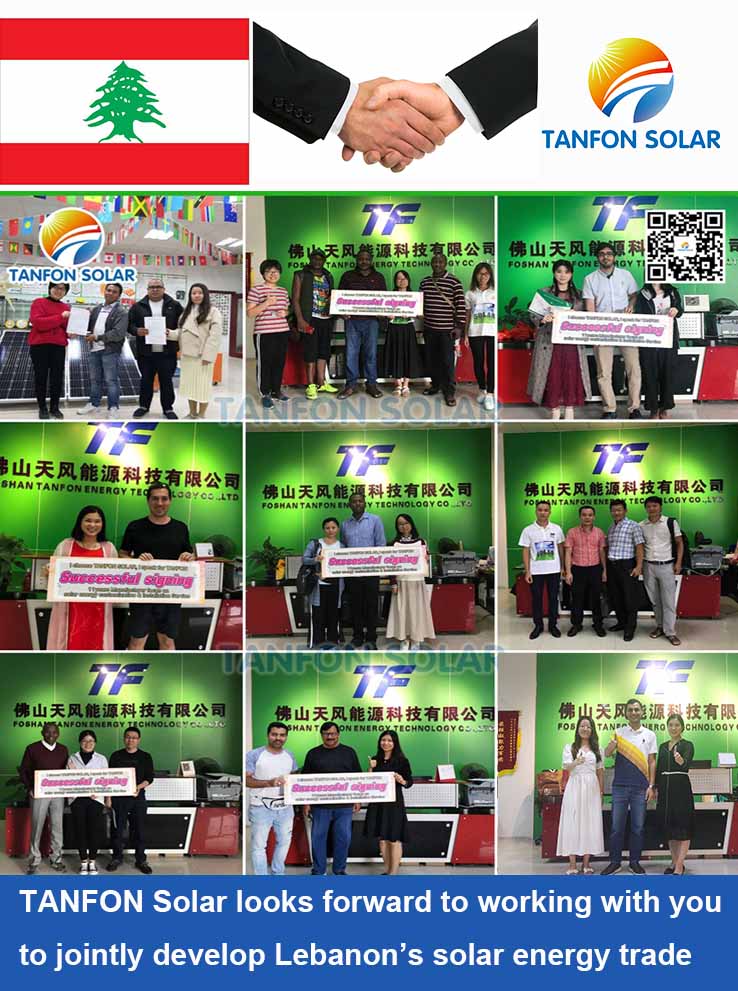 Tanfon Supply: Free site survey, design, production, installation, maintenance with our sophiscaticated one-stop service.
For the products, Each set solar power system has power on&off test 100 times per hour.Each step of production is under strict quality control. Our products are qualified with CE, ROHS, ISO, SGS certification
For our project case: Our products have been sold to more than 120 countries, (solar home project,solar school project ,solar hospital project,solar farm project ,solar hotel project,solar air port project ,solar millitary project ,Solar energy water treatment equipment project,solar goverment project etc)
we have a professional installation team, which has been to 32 countries and regions ( Egypt, Bangladesh, Chad, Nigeria,Thailand,Ghana, Doha, East Timor state, Pakistan, kenya ,indonesia ,Dubai,Mozambique etc.) for installation service. We also win many good feedbacks from the customers.
For our Global service in Thailand,Kenya,Senegal,Mozambique,will build 120 service centers all over the world. Give strong after-sales service in Local
Home Solar Panel System

FS350w solar panel
20pcs
H6T PV combiner
1pc
96V/100A solar controller
1pc
TF10KW solar inverter
1pc
96V/240AH Lithium battery
1pcs
solar panel rack
1set
Battery cable+PV cable
1set
Packaging Information
Total volume;4.12CBM Total weight:1138KG
Installation area
solar panel:40m² inverter+battery:6-10m²
5kw / 20AMP Solar Panel System Off Grid Power Kit

TFL510W USA TR Technology panel

Vmp:41.18V Voc:49.42V

Imp:12.38A Isc:12.82A

210*210 cells Efficiency:21.45%

weight:25.6KG Size:2148*1080*40mm

Strong anti-cracking advantage

15 years product warranty

Connect way:each 6 pcs in series

Remark:accept >9pcs in system (optional)

MPS Wall type Inverter power:5.2kw/48V

MPPT Controller model:48v/80A

MPPT voltage range:120-450VDC

AC charger :30A-60A

100% USA brand MOS materials

Double protection, easy after sales service

O/P:220VAC

Product size:440*300*100mm

Packing size:590*390*208mm

Weight:10KG

lithium battery

Capacity:96V/240AH

Rate voltage:3.2V*15S3P

Max. Charge Voltage:109V

Discharge cut-off voltage:84V

Charge Current:100A

Slope Rooftop or Flat rooftop

including complete fittings

wind load:55m/s,snow load:1.5kn/m2

structure:Anodized Aluminum+stainless steel, Angle adjustable

1)4pcs 16mm2*2M battery cable.

2)4mm2 PV cable 100M,50M black 50M red.

3)1set PV terminals and MC4

4)1P 63A Battery switch and box
Lebanon customer factory test:
Get Solar Product Factory Price For Lebanon Now
Tanfon Lebanon Case Feedback: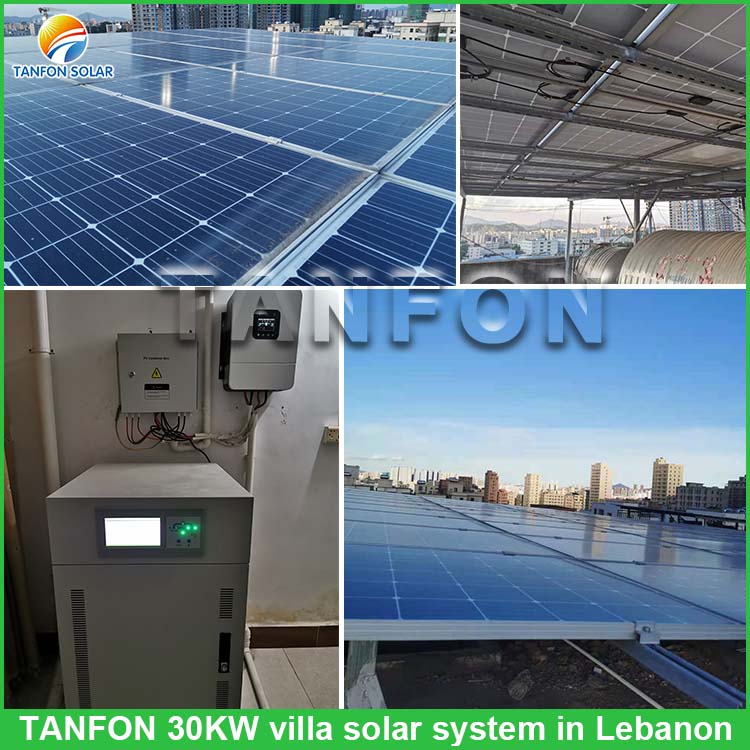 Mr. Aaron is from Lebanon. He wants to buy a solar power system for his villa in a resort. This villa is located in a scenic area where many company team building activities will go there. There are a variety of play equipment in the villa, you can play mahjong, sing karaoke, barbecue, etc., Mr. Aaron found our company through the official website, he saw some of our engineering cases, and initially had a good impression for us. We configured a 30kva off grid solar system for him based on the load information he provided. He looked at our configuration and felt very satisfied. He asked, if the batteries run off or low voltage, what will happen? Because he pays much attention to the tourists' play experience, he doesn't want them to have a bad experience because of the sudden power cutting off. We told Mr. Aaron that our inverter has the function of complementing the mains. When the battery runs out, the inverter will automatically switch to the city power. Our inverter is full digital thyristor switching, switch time is only 0 second, NOT Like some inverters in the market use the relay switching whose switching time is about 5 seconds.Ours inverter very short switching time, reduce the failure rate, avoid the power cut of when the visitors are playing. After hearing about this, Mr. Aaron thought it is very good. Then we were discussing the issue of solar panel installation, and sent instructions and installation videos to him. He was very satisfied with our professional services, so we signed this 30kw order.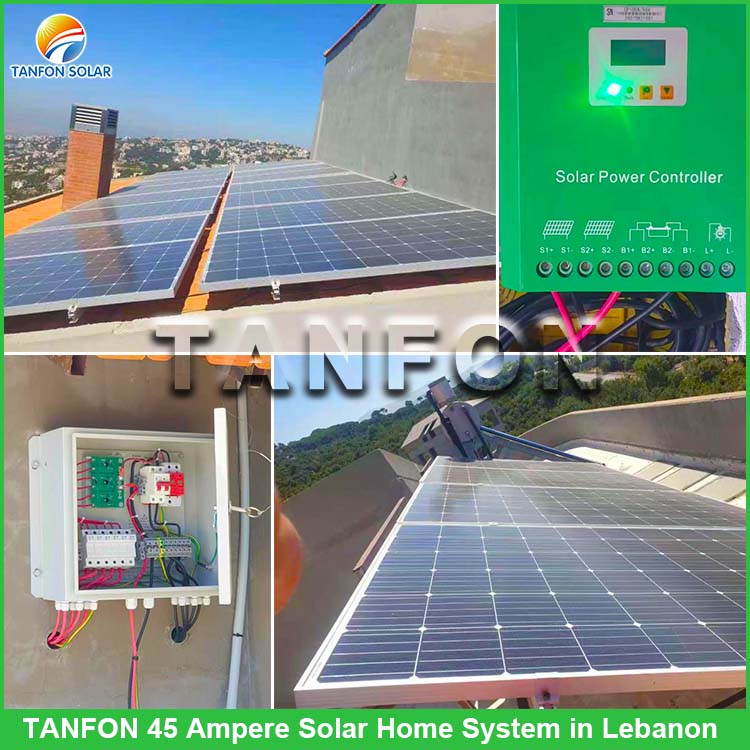 we received a local inquiry from Lebanon, which said that his family had purchased generators, but recently, due to the shortage of fuel, they often couldn't buy fuel, cause 22 hours out off power per day, which serious affected the business and life of stores.
He doesn't want to endure the impact of the noise of diesel generators and the instability caused by the lack of fuel on their life in the future, He decided to buy solar energy. But in the other way, they want the solar system work with his generator together, because if raining day, can use generator charge full batteries....
Lebanon installation feedback case
Tanfon Solar Factory: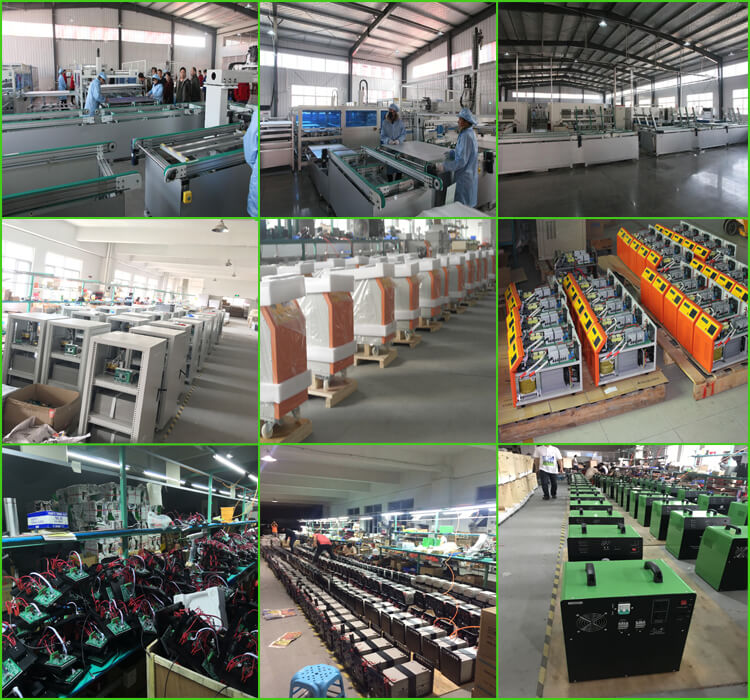 Packing and shipping: