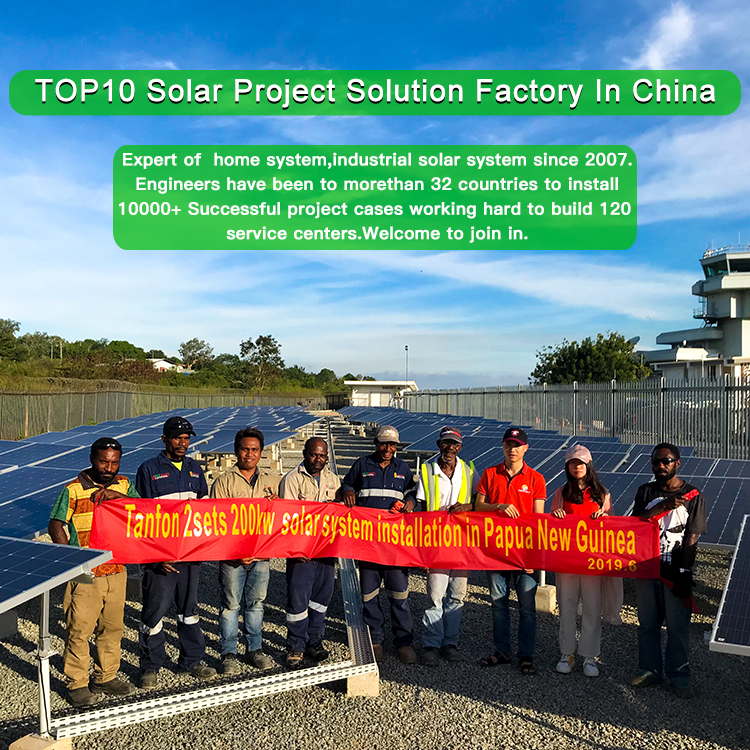 Solar Power Companies 100KW On Grid Solar Panels For Home Use
Tanfon Supply: Free site survey, design, production, installation, maintenance with our sophiscaticated one-stop service.
Who we are?
Tanfon is TOP10 solar power system project factory in china
What we do?
Expert of home system,industrial solar power system since 2007 .Engineer have been to more than 32 countries to install 10000+ Successful project cases
How we do ?
Tanfon solar powered generator--German technology, Chinese price, Global service
1).Our IGBT inverter SCR is used German SEMIKRON technology, with Germany standard and quality.
2).Our Chinese factory is mainly responsible for the supply chain management and production
3).Our Global service in Thailand,Kenya,Senegal,Mozambique,will build 120 service centers all over the world. Give strong after-sales service in Local
After 12 years of deep cultivation, we have successfully helped 28 customers to grow up and cooperate together to develop the local market more comprehensively.
Specializing in installing projects from design, detailing, fabrication to erection, having continue cooperation with engineers, exclusive agents and the foreign business partners, we are now sincerely hoping to join hands with you to create a better future together at the principle of win-win cooperation
Q:what model on grid solar system you have ?
A:from 1kw-100kw,output 380V for normal market ,output 110V/220V is south america market.
Q:what is on grid solar system?
A:working without battery ,sale power to grid ,and work directly to load in daytime ,sale 90% electricity bill in daytime!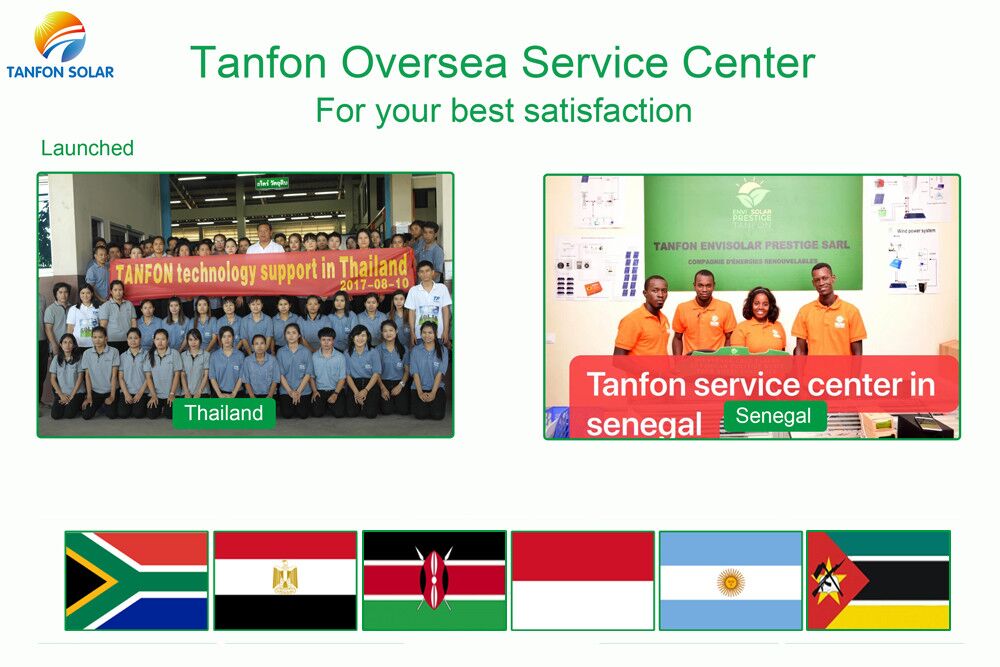 Solar Power Companies 100KW On Grid Solar Panels For Home Use

Type: mono solar panel( poly optional)

Max power :280w

Vmp:30V Voc:36V Imp 9.33A

Size : 1640*992*35mm

25 years life time (CE UL)

Glass:3.2mm Tempered

Terminal block:IP65 with MC4 connector

Efficiency performance :25 years 80 % 20 year 85% 10 years 90%

A Grade SUNTECH cells of high efficiency 21%

Connection way: 9pcs per string

Power capacity:HBF100KW On Grid Solar Panels For Home Use

MPPT voltage:90V-580V

Rate voltage:360V

Number of MPP inputs:2

Number of DC inputs:2

Allowed Voltage Range Of Grid:220V or 380-415V

Communication interface:RS485

Inverter size:478*344*170mm

Include WIFI module

Slope Rooftop or Flat rooftop

including complete fittings

wind load:55m/s,snow load:1.5kn/m2

structure:Anodized Aluminum+stainless steel, Angle adjustable

4mm2 PV cable *100M

10mm2 inverter cable 20M

MC4

International standard, with specification suitable for solar system
How to control on grid solar system(solar panel) quality? independant house solar system 15kw solar power on-grid type, 220V AC required
System
System Essentials
Pictures

Supply

System

1. Solar cell: Dark color, black, no color difference

2. Solar Cell shape: corner piece

3. Solar cell efficiency: 21%

Production

System

1. Classification of solar cell with different colors, powers and efficiencies using automatic sorting equipment

2. EL test of the solar cell by EL device to ensure that the solar cell is not cracked

3. Components are fully automated production line operations

QC System

1. EL tester tests the solar cell to ensure no cracks

2. The component tester performs EL and data testing before component packaging to ensure data is acceptable and components are not cracked.

3. Component products are monitored with data from a tester to ensure data is correct

Packaging

System

1. Can be packed in carton box or wooden cases

2. The solar panel is in an upright packaging mode to reduce the transport breakage rate

Factory Inspection System

QC inspection qualified products, distinguish the identification zone placement, ensure the shipment quantity, model, customer name is correct.

After Sales Service System

Free replacement of new solar panel during the 10-year warranty period if have any quality problem.
Solar panel production video: Classification of solar cell with different colors, powers and efficiencies using automatic sorting equipment
Package: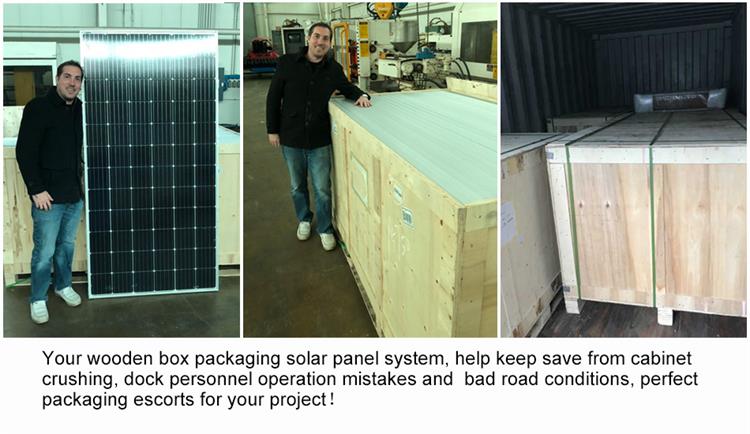 Solar system application: