Haiti 10KW solar inverter system
Configuration:
380w mono panel 27pcs
H4T/240V PV combiner 1pc
240v 50A controller 1pc
T10KW solar inverter 1pc
200AH gel battery 20pcs
Solar panel bracket 1set
PV cable+battery cable 1set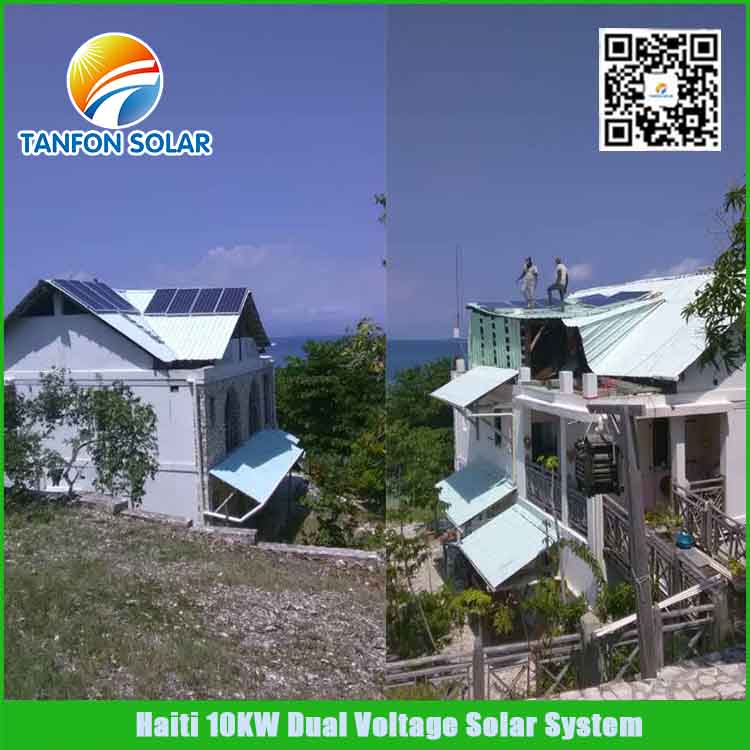 We all know that Haiti's household electricity has two voltages, 110V and 220V. The corresponding three-phase voltage is 220V.
Normally, a small power load such as a TV, fan, computer,fridge, etc. uses 110V single-phase power. If it is a large freezer, air conditioner, electric stove, etc., it uses 220V.
The specific diagram is as follows: solar inverter system

At present, Haiti's power resources are still relatively scarce, and power is unstable. Frequent power outages and power shortages have caused many inconveniences to local life and production. But many areas of Haiti have natural and good sunlight. Because of this, our customers found our company and proposed to purchase a solar inverter system, try it out first, and then promote it.solar inverter system
Because we have already cooperated with customers in Bahamas, Mexico, Jamaica, Colombia, Guyana, El Salvador, Guatemala and other countries, we quickly understood what the customer said about 2 voltages, and drawn a schematic diagram of electricity to the customer's engineer, the engineer was sure Our professionalism, so customers trust us more.
Many customers who are satisfied with the operation of our solar inverter system products will send pictures and videos to give us feedback, and this customer is also one of them. We appreciate the feedback from our customers and look forward to working together to further open the Haitian market and bring more convenient, clean and high-quality solar inverter system to the Haitian people.
Tanfon 10kw solar inverter system

FS350w solar panel

solar inverter system

20pcs

H6T PV combiner

solar inverter system

1pc

96V/100A solar controller

solar inverter system

1pc

TF10KW solar inverter

solar inverter system

1pc

200AH gel battery

solar inverter system

16pcs

solar panel rack

solar inverter system

1set
Battery cable+PV cable solar inverter system
1set