Sam from Kenya,clicked Tanfon official website. Since it was the first time to buy a solar system, he asked many questions about the configuration. For example, he planned to buy a 15kw solar system with a 15kw inverter. But he raised a question, three 5kw inverters instead of one 15kw inverter. The reason is that if one inverter is broken, he can buy another 5kw inverter, which reduces maintenance costs. In addition, the load increases and one more air conditioner is installed. You only need to add another 5kw inverter to load, saving the cost of buying another 20kw inverter.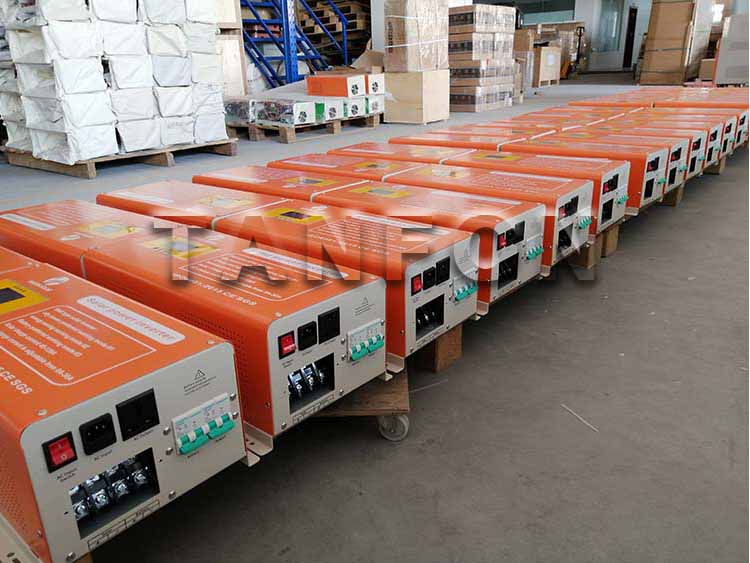 off grid inverter manufacturers
In fact, the customer's idea is very good. Then we Tianfeng upholds the purpose of saving electricity bills for customers, and we have considered. But on the technical level, and in the actual use of the user, we do not recommend it.
First, the inverters are connected in parallel, single-phase and three-phase, and the maximum high frequency of an inverter is 5kw. Power frequency is not allowed. Moreover, power frequency is more stable and reliable than high-frequency main power components, and has strong overload capacity and impact resistance.
Second, if 3 sets of 5kw high frequency inverters are loaded, each inverter has a maximum load of 5kw. Therefore, if a 5kw inverter loads 3 units of 1.5HP air conditioners at home at the same time, the starting power can not reached and it can not operate.
Therefore, the calculated load is very accurate. On the other hand, it is difficult to lay the line. Especially for factories and farms, it is very unsuitable.
In fact, the cost of 3 sets 5kw inverters is nearly one 15kw inverter.
Finally, Sam bought a 15kw inverter, which is now very smooth. Sam also felt very satisfied.
So feel free to tell your ideas, we Tanfon try our best to meet your need.