Tanfon solar, specialised manufactures of quality ,genuine and affordable solar energy 5000 watt solar generator systems.Solar products has been of great positive impact allover the world due their never ending advantages over other energy sources, solar being environmentally friendly since it utilised direct sunlight days to convert it to electricity with the help of photocells hence no harmful emissions are generated. Electricity bills has been abit stressfully to many anto some extend some places has been limited to electricity accessibility hence has been of great importance to them, solar has no limits provided the area has access to sunlight which is accessible to all at all times expecially in African countries. Once solar has been fully installed no extra costs on bills is insured , also in places with access to electricity solar has no limits with the hybrid inverters and batteries they act as source of backups and in some big institutions shifting to usage of solar during day time in order to minimize cost.For all this Tanfon solar has been source of solution, with highly qualified engineers various solar products are manufactured and tested to make sure every clients needs are satisfied and more so ensuring the products conform with the latest technologies.
One of our happy client from mauritius who sorted for 5000 watt solar generator to use it for water treatment.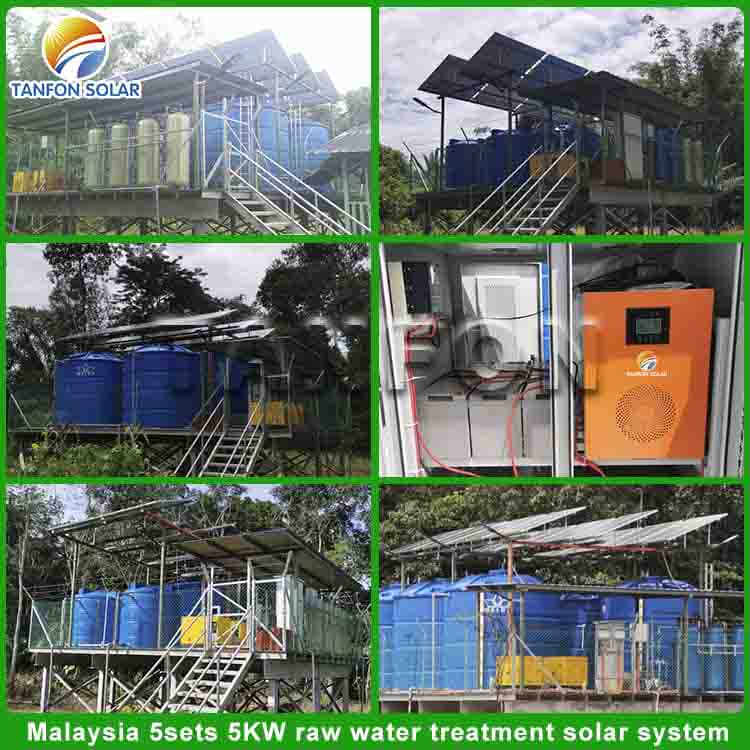 The 5000 watt solar generator system combrises of :
1. FS350w solar panel 12pcs
2. 96V/60A controller 1pc
3 H4T PV combiner 1pc
4. 5KW IGBT inverter 1pc
5. 200AH gel battery 8pcs
6. solar panel rack 1set
7. Battery cable+PV cable 1set
Mauritius being with evicient supply of sunlight the 5000 watt solar generator works perfectly and our client is among the many happy client allover the word. Tanfon solar be the solution to your energy needs.
By: Duncan ngetich
Kenya
Complete Set 5000 watt solar generator System Equipment For Home

High-end solar storage system

FS350W mono solar panel(poly optional)

Vmp:38.39V Voc:47.13V

Imp 9.25A

Size : 1956*992*40mm

25 years life time (CE TUV)

Coated steel Glass:3.2mm Tem pered

Terminal block:IP65 with MC4 connector

Efficiency performance :25 years 80 % 20 year 85% 10 years 90%

5000 watt solar generator

Model:H6T-96v Multiple PV strings inputs

and controller, Prevent hot spot effect

Reliable thunderstorm& surge protection

Product Size:400*425*145mm

5000 watt solar generator

5000 watt solar generator

5000 watt solar generator

controller+inverter

WiFi signal receiving module

PV controller model:96V/60A

Charging efficiency; 90%-95%,

charging mode, intelligent control.,

various protection functions;

IGBT Inverter:5KW96VDC

110V/120V/220V/230V/240VAC output,

City power and generator charger build in Overload, overcharge, over-discharge protection Fuji brand IGBT material

5000 watt solar generator

5000 watt solar generator

5000 watt solar generator

Solar battery

1)Gel battery,2 years warranty.

ship NEW for service.

2)Lithium battery,3 years warranty.

ship NEW for service.

Full house solar system 5kw 22amp for lights fridge freezer cooker tv

5000 watt solar generator

5000 watt solar generator

5000 watt solar generator

Slope Rooftop or Flat rooftop

including complete fittings

wind load:55m/s,snow load:1.5kn/m2

structure:Anodized Aluminum+stainless steel, Angle adjustable

5000 watt solar generator

5000 watt solar generator

1)4pcs 16mm2*2M battery cable.

2)4mm2 PV cable 100M,50M black 50M red.

3)1set PV terminals and MC4

4)1P 63A Battery switch and box

5000 watt solar generator

5000 watt solar generator

5000 watt solar generator