Power: solar installation 15kva off grid solar system
Location: Kenya
Application:Hospital
This is our second case of off grid solar system used in hospital, same power,
This is the conclusion drawn by customers after their own calculations, a 15kva off grid solar system is required. Through comparison and calculation, the client decides to place an order from our company.
After the goods are produced,this 15kva off grid solar system was sent out smoothly before the 2020 Spring Festival in China. After receiving the goods, the engineer contacts us and ask for some details of the installation. We sent him an single phase 15kva off grid solar system installation instruction, and a reference video for the installation. This engineer is very professional , he immediately understood all, and their line installation, solar panel installation are very professional.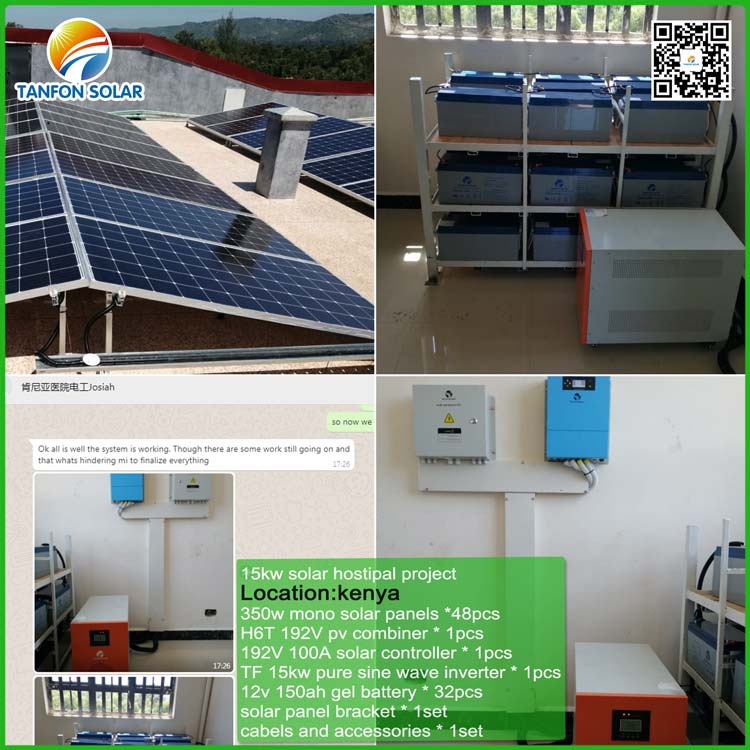 Because the roof area is not enough, they want to put down 48pcs solar panels, so have to choose two rows next to each other instead of one by one. This design is very amazing, it saves space and looks beautiful.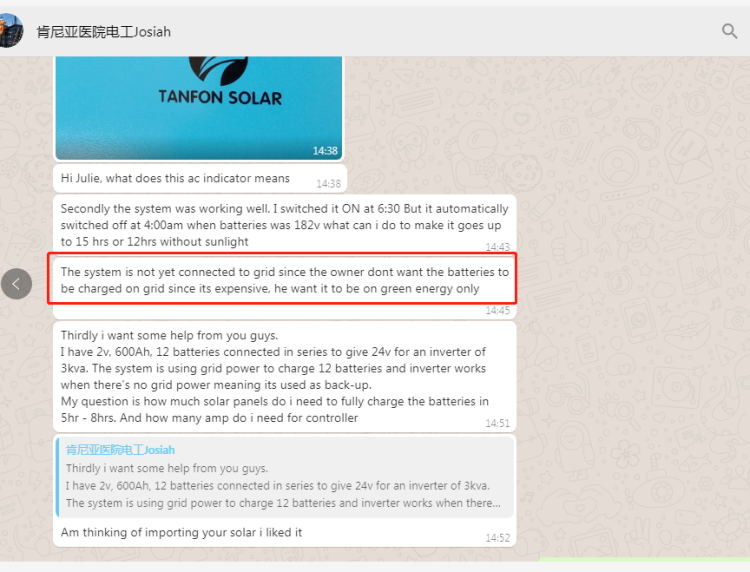 Customers told us that our 15kva off grid solar system​ working from 6:30 PM to 4:00 AM can last for 10 hours, but they want the system to last 15 hours, so they are planning to add additional batteries and solar panels.
At present, many unprofessional companies on the market make very few and poor battery in their systems.The purpose is to obtain customer orders at low prices, just want to sell products. As a responsible and experienced one-stop service company,we deeply know when finish the installation, it is the beginning of our service.
My Ugandan customer complained to me that the 15kva off grid solar system home he bought had only 4 batteries, and the configuration was not reasonable. After receiving the goods, the supplier asked him to save it. But this system was originally intended to solve other people's electricity consumption problems. How did it become a creation problem? So he would rather spend a little more money to buy a reliable off grid solar system
We can help you design a off grid solar system that meets your electricity requirements. For more information, please contact us.