Project: 5kw solar system
Location: Myanmar
Solved: away from the urban area, no electricity, use off-grid solar power supply
The customer's farm is in a mountainous area, where there is no utility power, and there is a single way to use electricity, only generators. Generally speaking, a farm or a breeding farm has a house for employees to rest or store feed, etc. The loads are usually electric lights, fans, refrigerators, computers, and mobile phone charging.
The customer bought the solar system to solve the problem of lack of electricity. The initial idea was to buy a 150KW system for the entire farm. Later, he decided to try a set of 5Kw system for the house of the farm. Solve the problem of no electricity available. and also bought two of 80w integrated solar street lights.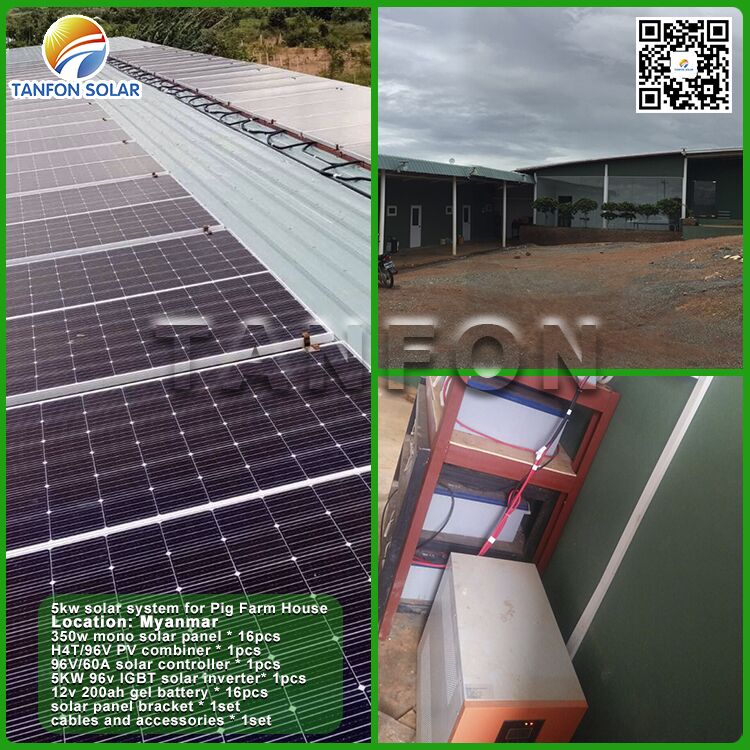 350w mono solar panel * 16pcs
H4T/96V PV combiner * 1pcs
96V/60A solar controller * 1pcs
5KW 96v IGBT solar inverter* 1pcs
12v 200ah gel battery * 16pcs
solar panel bracket * 1set
cables and accessories * 1set
After installing the street light, the customer reported that it worked well and posted pictures. After the 5KW system is installed, everything works normally. Later, it was found that the power time was not enough. The configuration of 8 batteries can be used until 3-4am in the morning, and the customer hopes that it can be used during the day. Later, when buying a set of 20KW system for the ventilation system of the pig farm, the customer added another 8 batteries for the 5Kw system to delivry together. This problem has been solved, the 5KW system can be used from night to day.
We recommend that customers pay attention to the configuration of the system when choosing a system. Different configurations different working time. If you tell us the load information and detailed requirements, we will configure the appropriate system for you.